Make your child's birthday special this year, with a personalized animated birthday card from one of the Faith Kids!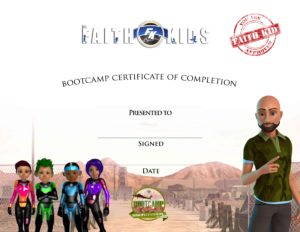 Fall in cadets! Get ready for your new journey to becoming a Faith Kid! Go with Pastor Larry & the Faith Kids as they lead you through Faith Kid boot camp where you will learn what it takes to be a Faith Kid. Download you certification upon completion!
THE FAITH KIDS MOVIE 'THE IMAGE' NOW AVAILABLE
When children are lured way by an evil darkness, God's ordained hero's Sam, Samantha, Jay and Gwen fight against the wiles of darkness as the fate of the world hangs in the balance. The Villainous Deceiver has deceived the minds of kids everywhere in an attempt to gain power and take over the world. The Faith Kids in this action thriller must defeat him before he executes his evil plans.